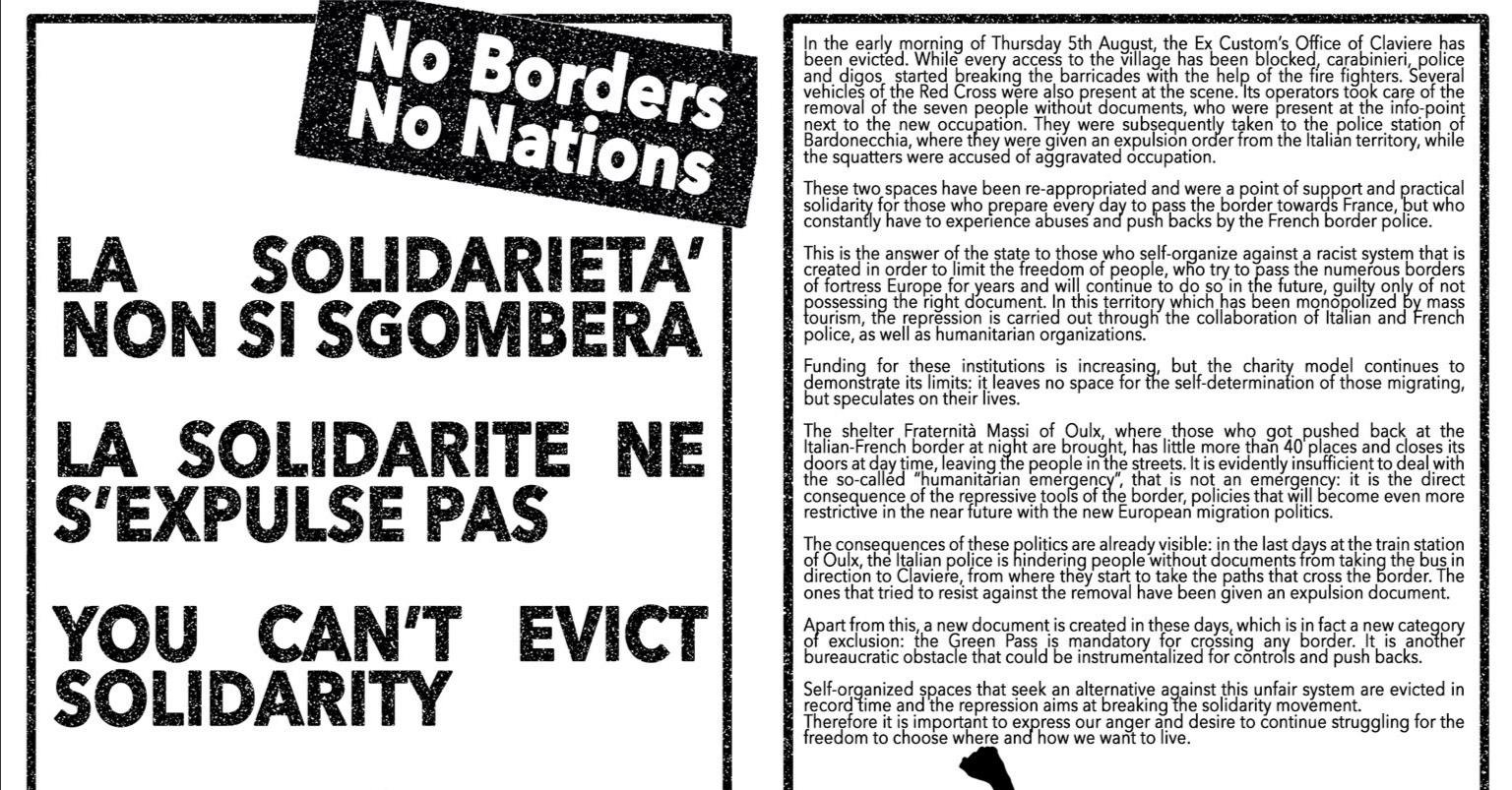 Update // Eviction of the "Refugio" after only one week // Solidarity is not a crime
A week ago, solidarity networks in Claviere occupied a former customs station to provide a safe haven from the repression in the border region. For so long, this place was a symbol of control, repression and an insane border regime – now, for a short time, it has served the opposite purpose.
But just a week later, on August 5, the newly constructed "Refugio" was evicted by Italian police early in the morning. The No Nation truck was located in the close neighborhood of the former customs station and also became a target of the repression. A brief summary of the events:
What happened?
The crew of the truck was woken up by police knocking at 6 in the morning. Our crew tried to stay calm. The crew members were brought out of the truck and their identity was taken. In the process, they were filmed while the cops raided the truck. The crew then locked the truck. So far it is unclear under what false claim our crew will face charges. Afterwards, our crew was taken away and detained in the squat with other activists. For hours, the process of recording people continued. The outside cases of the truck were broken and the cops filmed everything in the truck with cameras. Our international comrades* were also pressured with further charges and treated with identification procedures. In other cars, for example, roof windows were smashed in order to gain access. Afterwards, everyone was able to drive away from the old camp in convoy.
What can we expect now?
In the past, European authorities have repeatedly tried to terrorize and prosecute solidary and self-determined groups that oppose the border regime (see Iuventa10, El Hiblu, etc.).
Such a procedure can take a long time, but is useless – because solidarity is not a crime!
Solidarity networks will exist as long as they are needed and only grow closer with each attack.
https://nonationtruck.org/wp-content/uploads/2021/08/signal-2021-08-09-142953.jpeg
803
1536
Tobi
https://nonationtruck.org//wp-content/uploads/2022/03/NNT-Logo-farbe-300x154.png
Tobi
2021-08-09 14:30:38
2022-03-09 14:28:34
Update // Eviction of the "Refugio" after only one week // Solidarity is not a crime